DELTA receive a notable distinction for their performance in the segment of innovation from The Economist, during the 2023 Beyond Innovation Awards.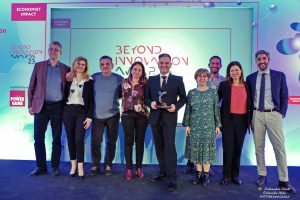 In the photo, from left to right: Nikos Manalis, Systems Regulation & Suppliers Evaluation Manager, DELTA, Ntina Ralli, Lab & Rapid Prototyping Manager, DELTA, Giwrgos Koumoutsos, Senior R&D Project Manager, DELTA, Areti Lamprou, Packaging Development & Industrial Project Director, DELTA, Christos Tsolkas, Chief Executive Officer, DELTA, Artemis Chatzigewrgiou, R&D Director, DELTA, Giwrgos Nikolakis, R&D Project Manager, DELTA, Marialena Koutli, Marketing and Innovation Director, DELTA, Kwstas Mefsout, Corporate Affairs & Sustainability Director, DELTA.
On Monday, March 20, 2023, DELTA received an award for their performance in the segment of innovation and technology during a special event titled "Technology and Innovation in 2023 and Beyond: Designing, inventing, changing".  The event was organized by The Economist and powergame.gr for the second consecutive year.
The event is dedicated to technical innovation, as well as to Greek companies which choose to apply new technologies and innovation in their areas of operation. The main subject of discussion was the effort surrounding gov.gr and its positive impact on the everyday lives of Greeks. Main speakers included Chris Messina, the founder of hashtag, and Kyriakos Pierrakakis, Minister of Digital Governance.
Christos Tsolkas, DELTA's Managing Director, received the award from John Andrews, President of The Economist.
"We're proud that our decision to consistently use technology and innovation in everything that we do has had such a positive impact. The benefits are tangible, widely acknowledged, offer added value and, above all, can be quantified. For us at DELTA, innovation is in our DNA and has characterized every aspect of our operation throughout our history. Over the past 70 years, we have achieved many firsts and have always offered products of high quality and nutritional value, in a consistent and responsible manner."
Regarding DELTA:
DELTA is an integrated food company, which has been offering consumers innovative, high-quality products for 70 years. The company's products meet modern nutritional needs and help to promote the exceptional benefits of a Greek-Mediterranean diet. DELTA's product portfolio includes milk, yoghurt, juices, iced tea, dairy and plant-based products, while the company enjoys a leading position in many of the areas where it operates. In line with their values pertaining to environmental protection, supporting society and practicing sound governance, the company offers added value to all interested parties and contributes to the nation's economy and well-being. DELTA is a subsidiary of the Vivartia Group.